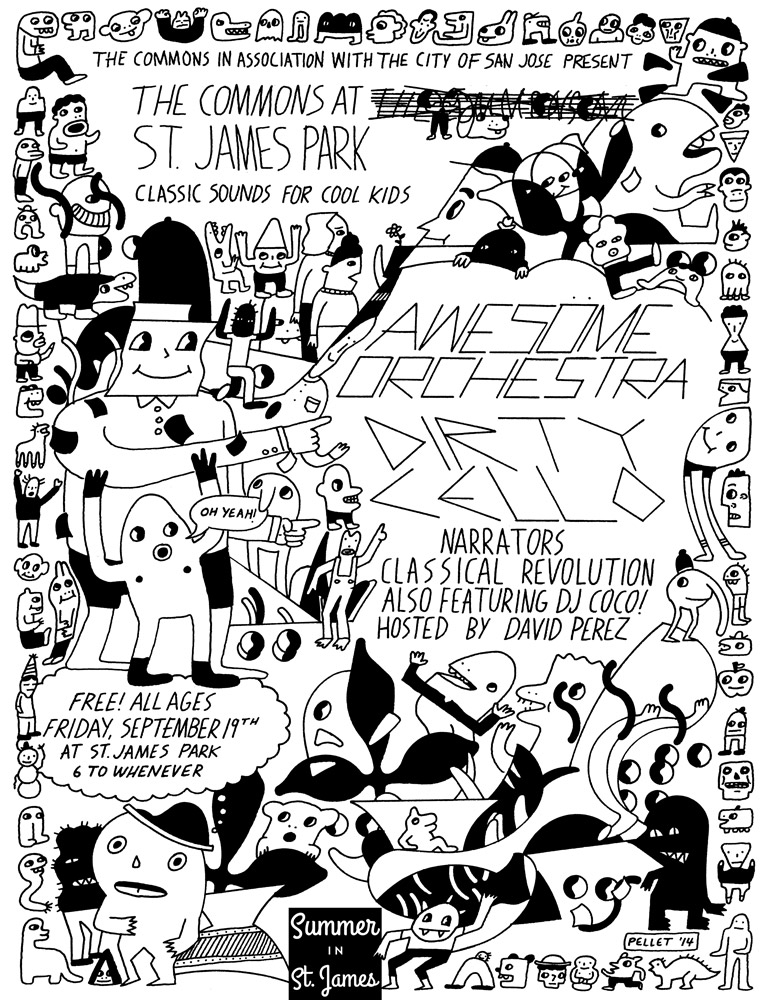 Print Page
"Classic Sounds for Cool Kids"
The Commons, an art and performance collective, and Summer in St.James Park presents an evening showcase of music and performance at historic St. James Park in downtown San Jose. Join the Commons on Sep 19th at 6:00 p.m. as they bring you an eclectic line­up of musicians from across the Bay Area performing a repertoire that ranges from the great classical composers to original indie­folk ballads.
Hosted by Santa Clara County poet laureate, David C. Perez, the festival features the cool workings of:
Awesöme Orchestra Collective feat. soloist Rachel Larsen playing works by Mozart, Copeland, and "Everything Is Awesome!" from THE LEGO MOVIE
Dirty Cello featuring the virtuosic cello stylings of Rebecca Roudman, one of the San Francisco bay area's most exciting cross­over cellists
Narrators a fixture on the local music scene with a signature sound incorporating glossy vocal harmonies into genre­-bending originals
Classical Revolution an organization of musicians dedicated to performing high­ quality chamber music in non­traditional settings feat. violinist Ishtar Hernandez and pianist Naomi Stine
and DJ Coco
The Commons in St. James Park is open to all ages and free to the public. There will be lawn seating, so feel free to bring blankets or lawn chairs!